Eye Body © Carolee Schneemann. 1963 (action) photo : Erro
a film by Marielle Nitoslawska featuring Carolee Schneemann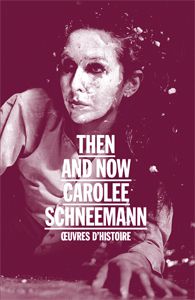 Carolee Schneemann : Then and Now - Les presses du réel (livre)
dadaïste et Fluxus. En 1964, sa performance de groupe Meat Joy est jouée à l'American Center à Paris, puis au Kinetic Theater à New York : cette mise en scène orgiaque et dionysiaque où des ...
- SCHNEEMANN Carolee, Eye Body. 36 Transformative Actions, décembre 1963 (happening).
Paint, glue, fur, feathers, garden snakes, glass, plastic with the studio installation « Big Boards » (Four Fur Cutting Boards). Photographs by Iceland artist Erró, on 35 mm black and white film. Schneemann's « Action for Camera » in which she merged her own body with the environment of her painting/constructions… « In 1962, I began a loft environment built of large panels interlocked by rhythmic color units, broken mirrors and glass, lights, moving umbrellas, and motorized parts. I worked with my whole body – the scale of the panels incorporating my own physical scale. I then decided I wanted my actual body to be combined with the work as an integral material – a further dimension of the construction.
(Studio-loft environment, comprising painting constructions – Four Fur Cutting Boards, Gift Science, Music Box Music, Ice Box, Glass Hat Stands, December Remembered, Maximus at Gloucester, Fire Lights, Fur Landscape, Colorado House – works-in-progress, collage materials included motorized umbrellas, pile of fur, paint, shattered glass, transparent plastic, live garter snakes, cow skull, plaster-covered dress form, assorted detritus, and tools. Approximately 36 x 40 x 10 feet.
Installations :
Artist Studio, NYC, "Mink Paws Terret" (1963)
MAX, Austrian Museum of Applied Arts, Vienna (1998)
Museum of Contemporary Art, Los Angeles, "Out of Actions: Between Performance and the Object, 1949-1979" (1999)
Museu d'Art Contemporani, Barcelona (1999)
Museum of Contemporary Art, Tokyo (1999)
Museum of Applied Arts, Vienna (1999)
« In December 1963 I was encouraged by my friend Erró (the Icelandic, Paris-Based painter) when I told him I wanted to do a series based on physical transformation of my body in my work – the constructions and wall environment. I considered that the ritual aspect of the process might put me in a trancelike state, which would heighten the submission of self into materials.
« Covered in paint, grease, chalk, ropes, plastic, I establish my body as visual territory. Not only am I an image-maker, but I explore the image value of flesh as material I choose to work with. The body may remain erotic, sexual, desired, desiring, and yet still be votive – marked and written over in a text of stroke and gesture discovered by my creative female will.
« I wrote "my creative female will" because for years my most audacious works were viewed as if someone else inhabiting me had created them. They were considered "masculine", owing to their aggression and boldness, as if I were inhabited by a stray male principle. An interesting possibility, except that in the early sixties this notion was used to blot out, denigrate, and deflect the coherence, necessity, and personal integrity of what I made and how it was made.
« Using my body as an extension of my painting-constructions challenged and threatened the psychic territorial power lines by which woman, in 1963, were admitted to the Art Stud Club, so long as they behaved out by the men. (The only artist I know of making body art before this time was Yoko Ono.)
« The nude was being used in early happenings as an object (often an "active" object). I was using the nude as myself – the artist – and as primal, archaic force which could unify energies I discovered as visual information. I felt compelled to "conceive" of my body in manifold aspects which had eluded the culture around me. Eight years later the implications of the body images I has explored would be clarified when studying sacred Earth Goddess artifacts from four thousand years ago. » (source : Carolee Schneemann, Imaging her erotics. Essays, Interviews, Projects, Cambridge, Massachussetts, London, England, 2002, p. 55-56.)
« 'Rhythm' in my work is polyphonic, corresponding to physical intensification – blood, nerves, breath, muscle – an interdependent physiological perception of space filled with movement, reflected light, broken edges, shifting planes, colors in balance and tension. Dropping, breazing, tearing, spilling, gluing materials introduce forms of randomization grounded by rhythms which re-define my expectations of physical structure. » (source : « A conversation with Carolee Schneemann by Ted Castle, NYC, May 22, 1982 », in Carolee Schneemann, I. Early Work 1960/70, NYC, Max Hutchinson Gallery/Documentext, 1983, p. 20)