Crime in the Streets @ Darryl Sapien. 1978.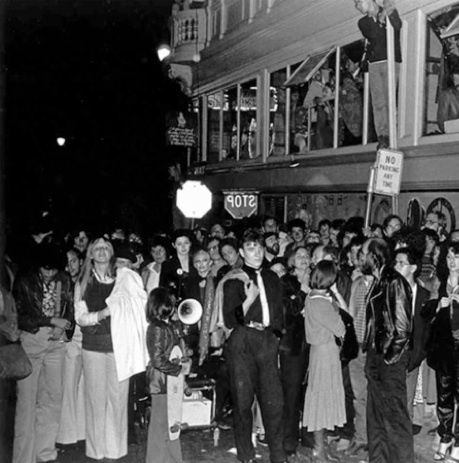 - SAPIEN Darryl, Crime in the Streets, 1978. Adler Alley, San Francisco. Ca., with Michael Hinton and others.
This was a street performance depicting a series of violent crimes against innocent and powerless victims. Among the crimes were rape, murder, suicide, and lynching. The city itself was identified as a voracious predator cosuming its weakest citizens to fuel its growth. In the end the victims were restored to life, then climbed the fire escapes, and joined together to form a human bridge over the scène of the crimes. Thus a higher purpose was achieved surmounting the mayhem of street below.
— Robert McDonald, « Urban Drama in an Art Context », Artweek, v.9, September 9, 1978, p.15. Review of Sapien's work, Crime in the Streets: A Performance About Survival in the City, that took place August 19, 1978, in Adler Alley between Columbus and Grant Avenues, San Francisco. The work was part of the Floating Museum's Global Space Invasion (Phase II). Excerpt:
« Most significantly, the piece has a defined narrative content, with the violence of urban life as its core. Episode followed relentlessly upon episode: the murder of a John Doe, the lynching of a scapegoat, the rape of a woman, the destruction of the rapist ('Mechanomorph', representing mechanized existence) through incineration of his genitals, the rape victim's abduction by the Minotaur ('the animal within us') and the suicide of a mad woman (or 'bag lady').
A narrator (Sapien), speaking from an elevated platform, commented as a chorus to both players and audience. He exhorted the players and informed the audience about what was happening. »
— Darryl Sapien, Crime in the Streets, San Francisco, 1978. Videotape, b/w. Documentation of Sapien's work enacted in Adler Alley, San Francisco.
— Darryl Sapien, ''Crime in the Streets,'' High Performance, no.6, v.2, June 1979, pp.38-40. Description and photographs of ''a performance about survival in the city.'' The work took place in Adler Alley, San Francisco, August 19, 1978.