Women at Work-Under Construction @ Maja Bajevic. 1999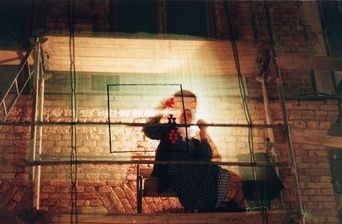 - BAJEVIC Maja, Woment at Work-Under Construction (Trilogy), 1999.
In her collective performances with other women, Maja Bajevic (1967, Bosnie-Herzegovine) relocates women's handiwork – washing, stitching and sewing – to public space, transforming these arts into domestic practices of female knowledge and historical memory. Bajevic's performances ans installations integrate biographical aspects from her own life while also reflecting the social changes brought about by the war in Bosnia-Herzegovina in the 1990s. The artist's poetic imagery maps out political and social conflicts, the construction of power and identity and the relationship between loss and reappropriation.
Under Construction is part of the trilogy Women at Work and documents a performance Bajevic staged with five war refugees from Srebrenica. The performance lasted several days at the national gallery in Sarajevo during its renovation. In a symbolic act of marking public space and joining male and female work, the women embroidered ethnic patterns on the construction netting.