Tucuman Arde @ Graciela Carnevale. 1968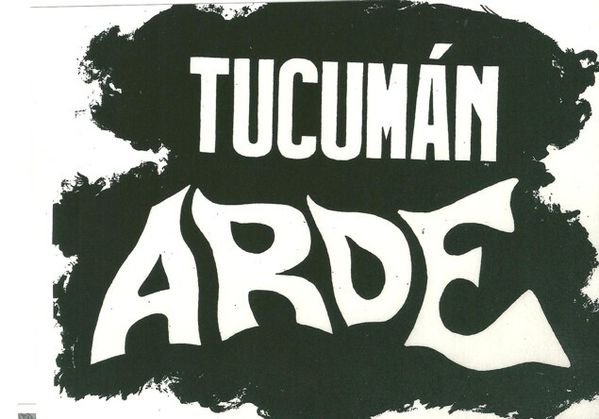 - CARNEVALE Graciela & Grupo de Arte de Vanguardia, Tucumán Arde, 1968.
Description: During the military dictatorship in Argentina political parties, education policies and mass media were strictly controlled and censored by the government.The project was conceived for the CGT of Rosario (Argentinean labour union formed by workers, artists and intellectuals) as an intervention in mass communication, generating a circuit of counter information about the situation in Tucuman that opposed that of the dictatoship. The decision of the government to close down sugar factories in Tucuman lead people to poverty and starvation.Within the frame of the First Biennial of Avant-Garde Art, the group developed isolated actions that formed an overall campaign which went un-noticed until its final manifestation: ''Tucuman'' stickers were placed throughout the city, travel to Tucuman for the artists participants in the Biennial to reseach and document the situation and a final exhibition with all the documentation during the opening of the biennial.
Goal: The artists conceived of art as an effective instrumennt for social change, and through the Tucuman Arde project they sought to bring the social condition of the Tucuman province to the attention of a large public.
Beneficial Outcomes: The public of the exhibition could take away the printed information to disseminate it. In Buenos Aires, the exhibition was closed by the police on the opening day and it was reviewed by different media attracting national attention.
– Tucuman is the name of a region in northeastern Argentina whose tropical climate makes it ideal for growing citrus fruits, vegetables, tobacco, and, above all, sugar. In the second half ot the 1960s, the agricultural sturctures in Tucuman were tranformed by massive intervention on the part of the government under the dictator Juan Carlos Ongania. The Argentinean government itself spoke of a neo-liberal revolution and maned its pilot project Operation Tucuman. The impact of Operation Tucuman, a huge wave of privatization and centralization, led to the closure of many small sugarcane plantations, the rise of precarious forms of labor, and the creation of extreme social hardship.
Tucuman Arde was a collective project by artists from Rosario and Buenos Aires whose objective, entirely in the spirit of the classical avant-garde, was to sound out the limits of their own methods and forms of artistic practice. At the same time, they worked on an information campaign against the official propaganda of the government. The artists themselves spoke of a cycle of over-information. Tucuman Arde was conceived as a process and followed a precise choreography:
1) In the first phase, several artists traveled to Tucuma, established contact with local union leaders and cultural organizations, and collected documents and researcha reports on the current situation.
2) The second phase consisted of taking stock, conducting interviews with those affected, and documenting places on film and photographs in a style that is vaguely reminiscent of the early Walker Evans. The photos show plantations, abandoned factories, settlements, hospitals, the villas and lifestyle of the rich, but above all the faces of the people. (a videotape about at the Queens Museum in New York resituating this important work in the context of Conceptual Art. In her essay ''Escape Attempts,'' Lucy Lippard had already pointed to the importance of the ''Rosario Group'' as a model of the politicized conceptual art practice (In Ann Golstein and Anne Rorimer, eds., Reconsidering the Object of Art: 1965-1975, Museum of Contemporary Art and MIT Press, Los Angeles, 1995). The catlogue for the Queens exhibition includes information on the Tucuman Arde project, and an essay from the 1968 exhibition is included in Alexander Alberro and Blake Stimson's Anthology Conceptual Art: A Critical Anthology, MIT Press, 1999).
3) In the third phase, in collaboration with the trade union association, a protest exhibition was organized that was shown for five days at union headquarters in Rosario, then in Santa Fe, and finally in Buenos Aires, where it had to close after just a few hours. This exhibition entitled 1st Biennial of Avant-Garde Art was essentially a montage of audiovisual media, plus appearences by artists, intellectuals, and experts. But guests were also served bitter black coffee without sugar, and the lights flickered in a rhythm that indicated the child mortality rate.
4) The fourth and final phase was to feature a concluding presentation of the information material.
This phase never took place. The military police became interested in the documentray material as a way of researching links between the unions and artists. Graciela Carnevale, one of the co-founders of Tucuman Arde, destroyed large sections of the archive.
– Tucuman Arde (Tucuman brûle) demeure aujourd'hui l'une des expériences les plus significatives de l'art d'avant-garde en Amérique Latine, constituant un horizon de références pour toute une génération de praticiens et de théoriciens (Roberto Jacoby, Leon Ferrari, Ricardo Carreira et Graciela Carnevale). En 1968, Graciela Carnevale et d'autres membres d'un groupe d'artistes de Buenos Aires et de Rosario se rendent dans la province argentine de Tucuman, où la misère sévit suite à une vague de privatisations dans l'industrie sucrière.
Le mouvement avait trois objectifs :
- abandonner l'élite culturelle, renoncer aux galeries, fondations, bourses, ainsi qu'au public élitiste qui conditionne ces oeuvres et avec lesquelles il a construit un langage inintelligible pour la majorité ;
- changer de public, se diriger vers les gens exploités, approcher leurs problèmes et leurs langages ;
réaliser une première expérience fondatrice en dénonçant la situation des ouvriers du sucre de la province de Tucuman.
Comme le souligne l'historienne de l'art Ana Longoni, dans Di Tella a Tucuman Arde, l'ouvrage de référence qu'elle consacre au mouvement, le groupe entendait expérimenter les limites et les formes de sa propre pratique artistique en montant une campagne d'information socio-économique opposée à celle pratiquée par le gouvernement, voulant souligner le décalage entre la réalité sur le terrain et sa représentation médiatique. Collaborant avec des syndicalistes et réalisant des entretiens avec des habitants, les artistes constituent un fonds qu'ils exposeront d'abord à Rosario puis à Buenos Aires, où l'exposition – intitulée Première Biennale d'Art d'Avant-Garde – sera fermée quelques heures après l'inauguration. Si Graciela Carnevale, l'une des fondatrices de Tucuman Arde, fut par la suite obligée de détruire une partie des archives pour empêcher la police militaire de saisir le matériel documentaire et d'enquêter sur les liens entre artistes et militants, elle en a conservé certains éléments. Les archives de Tucuman Arde ont été montrées au Witte de With de Rotterdam et à la Documenta XII de Kassel.