The Paintings of Sophie Rummel @ Guy de Cointet. 1974. performed by Viva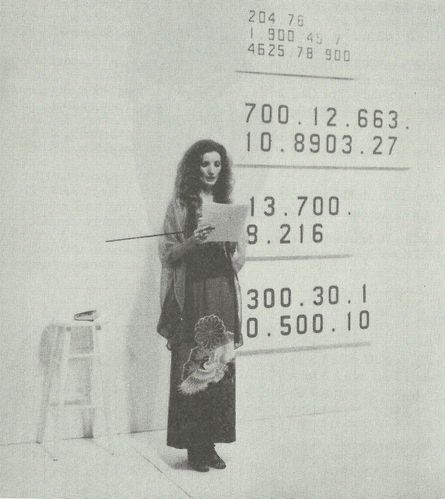 - DE COINTET Guy, The Paintings of Sophie Rummel. Cirrus Gallery Los Angeles, Ca., 1974. Performed by Viva.
— Sandy Ballatore, « Paintings, Puzzles and Performance, » Artweek, v.5, April 27, 1974. Review of de Cointet's show/performance with Viva at Cirrus Editions, Los Angeles.
— Guy de Cointet, « Guy de Cointet, » LAICA Journal, no.4, February 1975, pp.29-30. Documentation/script for Sophie Rummel, played by Viva, at Cirrus Gallery, Los Angeles, April 1974. Excerpt:
« The scene is at the 'World Boostore', on Cahuenga between Selma and Hollywood. Joyce N. is a journalist and she is interviewing the artist Sophie Rummel. It is 8 o'clock at night.
– How are you Sophie?
A sensual Santa Ana has been blowing all day. Now on the clear sky with moon, the capricious forms of buildings, palm trees, stand out in black relief. Not waiting for an answer Joyce can't hold her admiration.
– What a majestic sight! What a serenity! I wonder what makes it all so impressive?
– 'Here she comes!… Suddenly a slim figure…'
Sophie Rummel is reading aloud from a book she just picked up at random: '…a slim figure in a green silk dress appeared… Her long auburn hair glistened under the bright, colored lights. Her smile was captivating, entrancing. Electricity seemed to crackle from her. The crowd burst into thunderous applause, a spontaneous demonstration of their love for her. The ovation ceased abruptly as she led the standing people in her theme song:
He touch me! Oh, he touched me!
And oh, the joy that floods my
soul! Something happened…