Tearing Off A Piece @ Anat Ben-David & Adrienne Altenhaus. 2009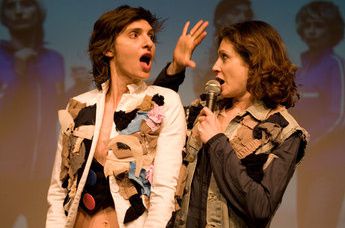 - BEN-DAVID Anat & ALTENHAUS Adrienne, Tearing Off A Piece, 2009.
Anat Ben-David (1970, Israel, UK) was one of Israel's few video pioneers and has been living in London as a video and performance artist since 1999. She continues to cooperate with the all-female electro-punk band Chicks on Speed since 2003. her art is based on the idea of a total artwork that focuses on the similarities in form and content between pop stars and fascist rulers, such as the methods they use to evoke a collectively effective ''totalitarism atmosphere.'' Her actions – which oscillate between live music acts and performance art – combine video projections, self-composed music, band performances and specific elements of pop culture, fashion and forms of staging power. She alters her own appearance to fit her vision by letting her private life disappear behind her pop star image.
Tearing Off A Piece is based on the S.C.U.M. manifesto, which was written and published by the American feminist and author Valerie Solanas (1936-1988), who became famous primarily for the attempted murder of Andy Warhol in 1968. S.C.U.M. stands for Society for Cutting Up Men. inspired by Solanas's radical feminist position, this show-like performance by Anat Ben-David and the dramatist Adrienne Altenhaus highlights processes of society while exploring the art world, academia and social issues under the conditions of patriarchal capitalism in a humorous and provocative way.