Sommerpause @ Anne Jud. 1980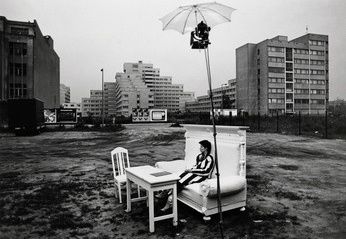 - JUD Anne, Sommerpause, 1980.
Anne Jud (1953, Switzerland, Germany, USA) is an object and action artist. Her hallmark is the one dollar ($1) bill, which she consistently uses in objects and design pieces since the 1970s. After founding the Galerie am Moritzplace in 1977 she took part in numerous exhibitions with the Jungen Wilden and staged several performances. Her last performances in Berlin before she moved to the USA was the column installation ''Nature Morte'' (1993), a performance about the timelessness of nature. Her roots as a set designer at the Schaubühne theatre in Berlin can be seen in her mise-en-scènes, and she often cooperates with other artists, such as Ulrike Ottinger and Rosa von Praunheim. She lives with her family on a farm with a vineyard close to Santa Barbara, USA, since 1994. Her artistic fascination for the dollar ($) continues to this day.
In the mid 1970s, Anne jud lived in West Berlin in the Kreuzberg district, an area with a unique mix of immigrants, artists, 'downshifters' and students from West Berlin. In her performance Sommerpause (Summer Break) she spent 24 hours in a kind of 'public living' space on a white sofa on Naunynstrasse (she originally planned this performance to last one week, but it had to be cancelled prematurely after she was physically assaulted by people walking by. Sommerpause refers to one of her early performance from 1979, in which she spent a night locked up with a camera in the legendary music hall SO36. She staged a moving sequence in the hall, using a self-made design as a stage. During her wild years in Kreuzberg, the artist was interested in everyday actions as an aesthetic experience.