So You Want to Be a Waitress @ The Waitresses. 1979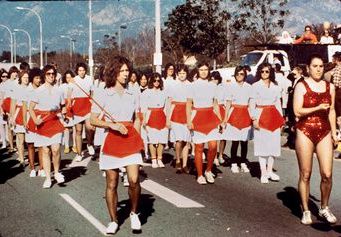 - THE WAITRESSES, So You Want to Be a Waitress, All City Waitress Marching Band performance, Doodah Parade, December 1979, Pasadena, California, USA.
The Waitresses (USA 1978-1985) was a collaborative performance art group formed by artists who were also waitresses during the 1970s in Los Angeles. These graduates of the Feminist Studio Workshop at the Woman's Building entertained audiences in restaurants, women's conferences and labour conferences and designed installations for galleries and museums from 1978 to 1985.
They explored working conditions for women, used humour, and were precursors to later groups like The Guerrilla Girls. In one of their performances they formed a marching band with 33 women and children in white waitress uniforms with red aprons and marched in the Pasadena Doo-Dah parade on New Year's Day in 1979. In 2007 five original waitresses – Jerri Allyn, Chutney Gunderson Berry (bandleader), Ann Gauldin, Anne Mavor, Denise Yarfitz Pierre – and 37 other men, women and children marched in support of pay equity now.