Rock 'n' Roll Piece @ Buchanan Nancy & Ransom Rideout. 1974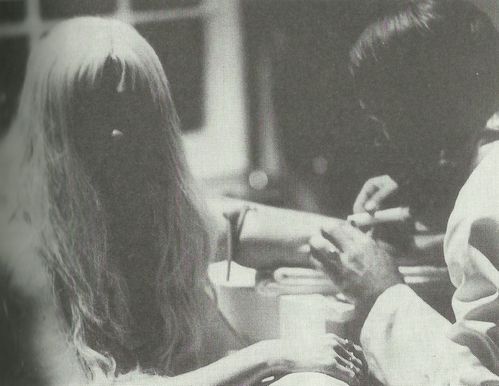 - BUCHANAN Nancy (with Ransom Rideout), Rock'n'Roll Piece, 10 août 1974, Gerard John Hayes Gallery, Westwood. CA.
— Nancy Buchanan, « Rock'n' Roll Pieces », La Mamelle Magazine: Art Contemporary, no.4, v.1, Spring 1976, pp.8-9. Documentation with text and photo of performance work presented in August 1974 at the Gerard John Hayes Gallery, Los Angeles. Excerpt:
« In preparation for this performance, I had multiple photographs made of myself wearing a long, blonde wig, which I signed and numbered; there were sold as raffle tickets.
The audience was greeted by Blue Cheer, a rock'n'roll band, who introduced me. Together we performed a song entitled 'Union Oil Compny's annual report to shareholders', which I composed from the written by Fred Hartley, Jr (Union Oil). I was then blindfolded and drew two winners of the raffle. While seated at a small table, a performer drew a syringe full of my blood. I announced that the raffle prize was four shares each of Union Oil stock, which I had inherited from my family some years previously. I read the latest Dow Jones averages for Union Oil from the 'Wall Street Journal', and signed away ownership with the blood. »