Portable Park No. 2 @ Bonnie Sherk. 1970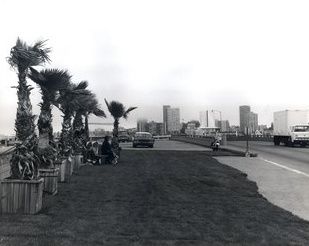 - SHERK Bonny Ora, Portable Parks, 1970.
Since the early 1970s, Bonnie Ora Sherk (USA) has been creating participatory artworks in public spaces which deal with environmental and ecological issues. Starting sith her installations by the sides of major roads, and a massive communal garden near a large intersection in San Francisco (''The Farm''), to the ''Living Library'' of today – in a development from ephemeral phenomena to large-scale social artworks – all of Sherk's projects aim to create a new understanding of and relationship with the space we inhabit.
Portable Park were performances by the side of the freeway, in which Bonnie Ora Sherk created temporary pastoral islands in the midst of chaotic traffic. For Sitting Still, the artist dressed up in an evening gown and sat still for hours in various places such as a garbage dump or near the Golden Gate Bridge. In Public Lunch, she had herself locked up in a cage at the zoo where, like the tigers in the adjecent cage, she waited for feeding time under the gaze of the zoo's visitors. Sherk initially called her works Life Frames, but in 1981 she abandoned this term in favour of the concept Living Libraries. The documentary DVD Evolution of Live Frames contains photographic and video documents from various decades.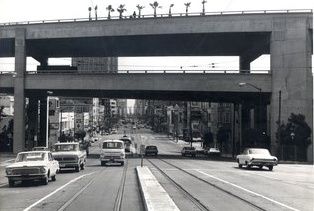 Portable Park No. 2. San Francisco, Ca., 1970. In the Portable Park Series, nos. 1-3, turf, palm trees and livestock were installed for brief periods of time at unlikely places. Site for Portable Park No. 2, Mission Street freeway off-ramp.
— Jerome Tarshis, « Portable Park Project 1-3 », Artforum, v.9, October 1970, p. 84. Extrait :
« … 'Portable Park Project 1-3, « in which turf, palm trees, and livestock were set down for brief periods at three unlikely places… Miss Sherk has said she is no longer interested in the kind of object art that is shut up in museums, but in environmental art that confronts people who do not necessarily go out in search of art. »
- SHERK Bonnie, Sitting Still. No.1, San Francisco, Ca., 1970. Performance by the artist appearing formally dressed and seated in a stuffed chair situated in a flooded city dump. San Francisco.