Osvobodi Bruschatku @ Pussy Riot. 2011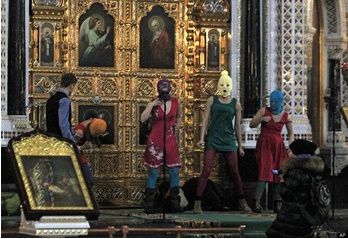 - PUSSY RIOT, Osvobodi Bruschatku, 2011.
Pussy Riot is a Russian group of female artists that was founded for a performace in the Moscow metro station Otradnoye, where they played the song Osvobodi Bruschatku (Release the Cobblestones). A video of the action – the group stood on a scaffolding and subway cars, tearing feather pillows and showering feathers on the cars – was released on 7 November 2011, the anniversary of the October Revolution in 1917. Before that, in October 2011 two members of the group already propagated a new form of punk feminism and thus made the existence of Pussy Riot public for the first time, after they had originally only performed anonymously while wearing masks. In 2012, members of Pussy Riot were arrested due to an unauthorized performance in the Russian Orthodox Cathedral of Christ the Saviour in Moscow and were officially charged with hooliganism. The following trial, the hunger strike of the defendants and the conditions of their imprisonment has been a subject of international debate.
Pussy Riot uses the strategy of ''becoming a multitude'' in a direct and explicitly political sense: they remain anonymous, only use nicknames, wear masks, perform publicly without announcing themselves, and their political lyrics criticize the government and President Putin as authoritarian and sexist. Their performance always include a direct appeal to take action against the government. Only described as punk band, the group explicitly refers to artistic traditions – for example, they regard the visual motif of the masked performer to be a consequence of Conceptual art, according to an interview from the beginning of 2012.