Oblique Composition @ Paulina Olowska & Lucy McKenzie. 2003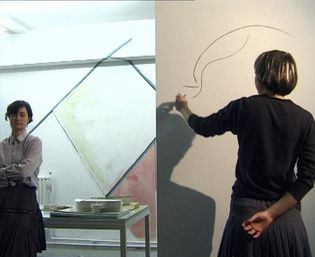 - OLOWSKA Paulina & McKENZIE Lucy, Oblique Composition, 2003.
Paulina Olowska (1976, Poland) lives and works in Raba, Poland. She attended the School of the Art Institute of Chicago and the Academy of Fine Arts in Gdansk, Poland. Lucy McKenzie (1977, UK) studied at Duncan of Jordanstone College of Art and Design in Dundee and at the Karlsruhe Academy of Fine Arts, Germany.
In their work Oblique Construction Lucy McKenzie and Paulina Olowska adopt the caricatural roles of ''working women'' – an artist and an architect – weaving a loose narrative that explores the idea of making art as well as its process and perception. In front of an invited audience and against a minimal but highly formal set, the women appear separately, although their physical similarities imply that they are mirror images of one another. When they do appear together, McKenzie begins to sketch Olowska's portrait. The surrounding audience watches McKenzie, noting her ability to translate what is in front of her into a work of art. Art's transformation of reality is a central theme of this performance. This idea has gained signifiance by the fact that the performance is now an edited, projected film. The accompanying soundtrack – melancholic piano music – adds another layer and reinforces the sense of artifice.