Negerkuss @ Wayne Hodge. 2011 Performance -Photo Kathrin Heller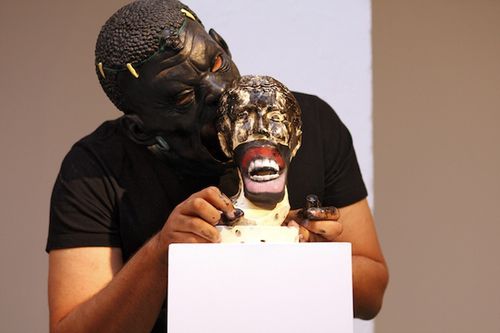 - HODGE Wayne, Negerkuss, 2011, Performance -Photo Kathrin Heller.
Negerkuss (Variation #1) a performance in which the artist, masked covers a bust of Cleopatra with black lipstick kisses. The bust is a replica of a sculpture found in Berlin's Antiken Museum from ca. 35 B.C.E. The mask is a contemporary caricature of a so called ''savage'' and it has been cut apart by the artist, so that the mouth will be attached to the replica of Cleopatra, as the artists own mouth is exposed for interaction with the sculpture. This action examines the relationship between high and low culture and how the Black subject is polarized within this context. it also addresses the relationship between the location of the antiquity as a cultural idea/artifact and the real in the form of the Black artists body in an actual space.