Mouth to Mouth @ Theresa Hak Kyung Cha. 1975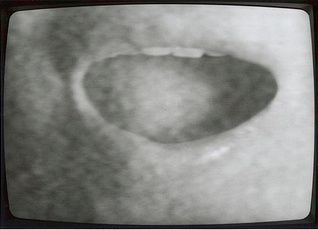 - CHA Theresa Hak Kyung, Mouth to Mouth, 2005.
Theresa Hak Kyung Cha's family immigrated to the US in 1962, where she studied literature and art. She later moved to Paris, where she studied film and film theory with Christian Metz, Raymond Bellour and Thierry Kuntzel. Cha's (1951-1982) most important work, published shortly before her violent death en 1982, is the novel Dictee, which inter-weaves the biographies of several women. The various genres employed in her works are united by the topic of cultural, geographical and social uprootedness, which runs as a common thread through her oeuvre of films, performances and texts.
The subject of Mouth to Mouth, one of Cha's early films, is language. Eight Korean vowel characters are shown, and the vowels are inaudibly spoken by the artist. The scenes then slowly fade to black. These presentations of printed characters and articulated vowels are interrupted by video static, which has been interpreted as representing the ''the loss of language over the course of time''.