Moody and the Mentruators @ Anne Bean. 1971-74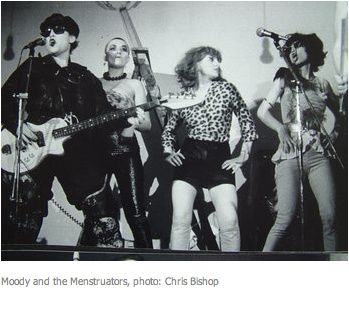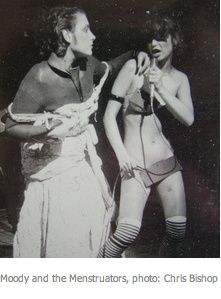 - BEAN Anne, Moody and the Menstruators, 1971-1974.
In 1968, Anne Bean (1950, Zambia, UK) arrived in Great Britain to study art. Since then, she has developed a body of works that cannot be sufficiently described using medial categories. Sound and music are important aspects. Bean can frequently be seen doing actions by herself and occasionally with others, often with a destructive impetus. In self-reflexive acts, the artists saws apart portable tape recorders or sings along with Captain Beefheart while another tape recorder suffers audibly from the soap water sprinkled onto it. Along with the voice, the female body is also a subject she is frequently interested in, without using it in an exhibitionist way. She draws the outlines of a live nude model while blindfolder or traces the silhouette of her own face using a slide projection to create a self-portrait. The female body becomes a metaphor for general human concern without any reference to the male counterpart whatsoever. Anne Bean's works are regularly situated within broader political contexts: They concern women in Kurdistan, they take the form of a sit-in Apartheid-ridden South Africa or they are simply a performance in front of Helmut Schmidt and Henry Kissinger with The Kipper Kids.
Moody and the Menstruators was a successful cover band that was active in 1971-1974. They were lined up to support Pink Floyd, and Malcolm McLaren was interested in managing them, but Anne Bean, who was the mastermind behind the project, was not interested in venturing into pop music territory. In a conversation, she explained that she was concerned with testing the boundaries between art and music rather than participate in the music business. Other members besides Anne Bean were Suzy Adderley, Becky Bailey, Polly Eltes, Rod Melvin, Mary Anne Holliday and Annie Sloane. This video documents several segments of Moody and the Mentruators' programme. The montage of moving and still imagery is accompanied by the band's version of Wild Thing by The Troggs (1966).