Monument to Working Women @ Shirley Cameron, Monica Ross & Evelyn Silver. 1985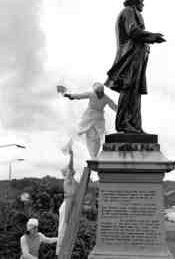 - CAMERON Shirley, ROSS Monica, SILVER Evelyn, Monument to Working Women. 1985
Shirley Cameron's sculptural work from the 1960s developped into a hybrid practice in the 1970s that included performance and a collaboration with Roland Miller. In the 1980s, Cameron introduced political and feminist ideas into her practice.
Monica Ross contributed to the Women Postal Art Event (1975-77) at the ICA London, Künstlerinnen International 1877-1977 (1977) in Berlin, the Sister Seven Anti-Nuclear Project (1981-84) and exhibitions such as Typisch Frau at Galerie Magers, Bonn (1981). In December 2008, Ross began Anniversary-An Act of Memory, a performance series of solo and collective multilingual recitations from memory of the Universal Declaration of Human Rights.
Evelyn Silver created entertaining performances in galleries, on streets, in peace camps and in festivals in the UK in the 1980s. She made the personal political by blending feminist and anti-nuclear issues with her lesbian and Jewish identity. She collaborated with Cameron for over two decades.
In Monument to Working Women, the artists Shirley Cameron, Monica Ross and Evelyn Silver came together to intervene in a public site where history – in the monement of John Bright, an influential industrialist – misrepresents the living memories of workers and their experience of the relations between labour and capital. The thousands of women, who were employed in textile mills such as John Bright's, were once the world's largest unionised female workforce, renowned for their social spirit and labour activism. Dressed like these working women, the artists proceeded from the town's art gallery, also built by John Bright, to his monument, while overlooks it. In their enactment of a temporary Monument to Working Women, they symbolically super-imposed the women workers' memories of John Bright over the official legend, which idealises him as a social reformer and as a representative for the philanthropy of capitalism. (photo: Patsy Mullan, 1985, performance Triple Transformation Residency, Rochdale Art Gallery, UK).