Mitchell's Death @ Linda Montano. 1977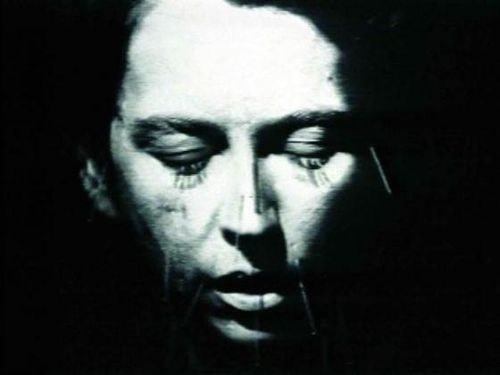 - MONTANO Linda, Mitchell's Death, 1978.
Originally trained as a sculptor, Linda Montani (1942, USA) began using video in the 1970s. Attempting to obliterate the disctinction between art and life, Montano's artwork is starkly autobiographical and often generates performances that last for years. In Learning to Talk (1975-1980) she embodies various roles and explores how language structures identity. In 1983, Montano and artist Tehching Hsieh were literally tied together for one year in a living performance. Montano's work from the 1970s and early 1980s was critical in the development of video by, for, and about women.
Using performance as a means of personal transformation and catharsis, Mitchell's Death mourns the death of Linda Montano's ex-husband. Every detail of her story, from the telephone call announcing the tragedy, to visiting the body, is chanted by Montano as her face, pierced by acupuncture needles, slowly comes into focus then goes out again. The chanting is reminiscent of Buddhist text, while the needles signify the pain that is necessary for healing and understanding.
— Linda Montano, « Mitchell's Death », High Performance, no.4, v.1, December 1978, pp.4-5, 46-47. Documentation of Montano's experience related to the death of her ex-husband, Mitchell Payne.
— Moira Roth, « Matters of Life and Death: Linda Montano interviewed by Moira Roth », High Performance, no.4, v.1, December 1978, pp.2-3, 6-7. Major interview. Excerpt:
« MR: It seems that Catholic themes enter very strongly into the three live performances (and the video tape) which you did in response to your exhusband's death – the pieces that have taken up much of your energy for the last nine months.
LM: I felt it was very important to mourn Mitchell in my work, and I wanted everyone to know him. This first piece was done shortly after his death in August of 1977, and it was a very private event where I was more in communication with Mitchell than the audience.
MR: That was where you played a chord organ for thirty-three minutes to mark the years that Mitchell's has lived. In the next piece at LAICA there was more information about Mitchell with Minetter Lehmann showing slides and talking of his work as a photographer followed by you again playing the organ. Then the third version of Mitchell's Death was done at the UCSD Center for Music Experiment. Would you describe the piece?
LM: My Catholic background and interest in Eastern religions came together here. The piece was planned around a cross sign (Catholicism) so that things were happenings both horizontally and vertically. I stood in the center of the horizontal line with acupuncture needles in my face and chanted on one note the story of Mitchell's death which I had written just after I had come back from his funeral in Kansas. The sound was amplified three times so there was a feeling of echo and expanded space (vertical axis). Al Rossi sat on my left playing an Indian sruti box which created a drone and represented my interest in Hinduism. Pauline Oliveros sat on my right and played a Japanese bowl gong (Buddhism). Next to Pauline was a video monitor with images of myself slowly applying acupuncture needles to my face. Everything worked together perfectly. It was mourning, not art. »
— Moira Roth, « Mitchell's Death », New Performance, no.3, v.1, 1978, pp.35-40. Article and interview discusses a series of performance works by Linda Montano related to the death of her former husband, Mitchell Payne.