Interplay @ Mary Winder Baker, Debra Rapoport & Susan Wick. 1975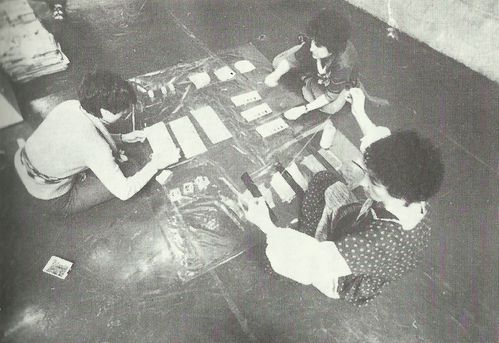 - BAKER Mary Winder, RAPOPORT Debra, WICK Susan, Interplay, University Art Museum, Berkeley, Ca., 1975.
— Ann Flanagan. « Collaboration as Process », Artweek, v. 6, May 17, 1975, p. 6. Article on the collaborative work of Mary Winder Baker, Debra Rapoport, and Susan Wick. Extrait :
« Last month, (Baker, Rapoport, Wick)… occupied the Special Events gallery at Berkeley's University Art Museum for Interplay, a spontaneous exchange between the artists and the public, 'giving the public a chance to relate to the artist working instead of just the dead object' (Wick). The museum collaboration was much more structured and formal in terms of activities and space because of museum restrictions… As in the studio, each woman had her own work area but there were also joint projects… Together they worked on a huge, transparent plastic scrapbook with a page for each day, a fiber/plastic/wire grid tapestry and a monumental twisted paper rope. On the last day surrounded by friends and visitors, they fashioned a great knot out of the rope, a symbol of their shared lives and concerns. »
« INTERCHANGE
Purpose : By exchanging identities and answering questions as each other and as themselves, the interviewees might reveal new perspectives about their work and relationship. Baker, Rapoport and Wick were not permitted to consult each other about their answers.
Question : The public collaborations and performances have been largely spontaneous. Do you ever feel vulnerable, leaving so much to change ?
Mary Winder Baker :
as Mary Winder Baker – creative people energize one another. Just let me feel an energy level connection and trust and I'm off. The spontaneous experience happens and happens fully. No room for uneasiness.
as Debra Rapoport – No. Basically I trust and flow with the feelings that are built out of performance.
as Susan Wick – I dont't feel there is much risk. I know my own assertiveness. The group wants to experience its self-will and I can sense that.
Debra Rapoport :
as Mary Winder Baker – No, there is enough conversation, planning, understanding and trust among those initially involved that we can rely on each other's energies. If a lull should occur, we can always pull from past conversations.
as Debra Rapoport – I don't feel vulnerable leaving things to chance. There's a fear of being rejected which lasts a short time. I trust in the process and in the people involved so I don't preoccupy myself with failure. Before doing any performance, I feel strongly about what I am doing and my relationship with the others. I enjoy the challenge of using the positive energy to influence the other participants/spectators.
as Susan Wick – It's not the chance that leaves me vulnerable. At first, it's the exposure of self – will I be rejected ? There are always enough degrees of energy and trust of each other to keep us going.
Susan Wick :
as Mary Winder Baker – Yes. Amount changes depending on how much preplanning we're done. Vulnerable but definitely worth taking the risk as there is much to gain and all we ever have to work with is ourselves.
as Debra Rapoport – Yes, I feel vulnerable, but it is exciting ; I believe in it and all of it has value on one level or another, at one time or another for each of us – more for some than others, that's all. The spontaneity and the including others into my process makes it more enjoyable.
as Susan Wick – I feel vulnerable, more or less depending on my sureness, my own self image, who is present, the reason for the event. It is risk taking – what will I learn about myself in this spontaneous fashion, and what will the others learn about me at the same time ? It's exciting, stimulating. I'd hate to have everything planned. I like the feeling of trusting the situation, myself, the others. »
— Ann Flanagan « Live-In Art at Fiberworks Gallery », Craft Horizon, v. 35, June 1975, p. 9.
« Much of 'live-in' was devoted to woman's traditional nurturing activities – hostessing, serving, cleaning up after guests during an assortment of brunches, tea parties, and dinners. Homemaking and gardening took various forms : lettuce leaf 'living tapestries' which carpeted the floor and embellishee a 'paper forest' of hanging paper panels ; buckets of wild growing grass were brought in ; and the room was filled with piles of various fibers and paper on another occasion. »