Integrations in Water @ Yeni & Nan. 1982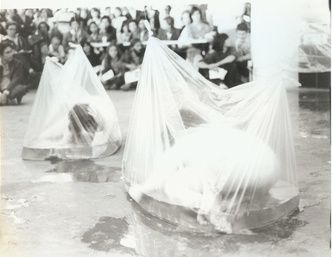 - YENI & NAN, Integrations in Water, 1982.
Jennifer Hackshaw (1948, Venezuela) and Maria Luisa Gonzalez (1956, Venezuela) worked as a team from 1978 to 1986 under the name of Yeni & Nan. Polaroid photographs, installations, performances and photographs makes up their artistic universe under the motto ''the body as nature''. With a background in psychology and theatre, both artists were practioners of martial art and yoga, which guaranteed great physical consistency ot their performances. Essential to their artistic proposals is a return to nature and a fusion with the cosmos. The processes of metamorphosis and the cycles of life make up their artistic imagination, which can be summarised as ''one's body as a body of the world''.
The artists are dressed in black. They enter into a large transparent bag filled with water suspended from the ceiling, reminding us of an amiotic sac, in which it seems to be possible to return to the floating life that precedes birth. They help each other in perfect harmony and rid themselves of the black clothes to reveal a white elastic fabric that shrouds them like an osmotic membrane. Finally, the artists leave the bag, breaking water – symbolically reborn. Water as a vital oceanic and organic element, from which life emerges, also hosts and expels women in a state of duality – they are capable of giving and receiving life, simultaneously mothers and newborns in a poetic action where time confounds itself.