I Try to Be Transparent @ Orshi Drozdik. 1980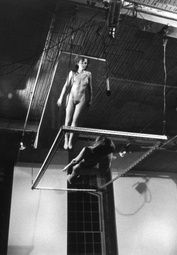 - DROZDIK Orshi, I Try to Be Transparent, 1980. Factory 77, Toronto.
Orshi Drozdik (1946, Hongrie, USA) has been working with normative representations of female body as a nude model and in nude drawings since she was an art student at the University of Fine Arts in Budapest in the 1970s. She analyses the patriarchal structures in the socialist system of art, which are contradictory to sociaslism's promise of equality between the sexes. Drozdik left Hungary in 1978, working first in the Netherlands then in Canada. She later moved to New York.
In this video documenting a live performance, we see Drozdik's naked body suspended from the ceiling above pages from art history books littering the floor. 'The title of the show and the (…) props on the ground insist on the artist's declarative struggle to be transparent to the history of art and the precepts of Western knowledge.
Orshi Drozdik performance titled: « I Try To Be Transparent (To Art History)
was performed at Factory 77, Toronto, 77 Mowat street. The performance was about 1 hour long in complete silence. The audience was awaiting for my body to became transparent. From the gallery sealing I had suspended about 250 x 140 cm plexiglass and a mirror above, in about 3 meter distance from the floor. I placed my naked body on the plexiglass platform and I did no moved at all. I was waiting to be transparent. My body was visible to the audience only from the mirror. Below my body, on the floor I had pages of art history books. I placed my body above the art history pages naked, as I (as a woman) was represented on its pages. On the floor was a video camera on tripod, connected to a screen and recording the performance. The audience could see the performance, not only from the mirror, but from the screen. I felt that time, as a woman artist, with woman body, the only possibility was for me to be visible, if I make an attempt to be transparent to art history. In other word, through transparency I projecting myself into the pages of art history.'