I am not half the man I used to be @ Stefanie Seibold. 2005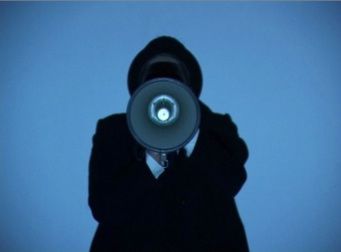 - SEIBOLD Stefanie, I am not half the man I used to be, 2005.
Stefanie Seibold (1967, Germany, Austria) works with performances, videos, collages, sounds and video installations. Her interest lies primarily in gestures and signs that constitute sexual and gender identity. In her works, she often engages in the recontextualisation of (historical) images, texts and quotes. Seibold also teaches at the department of Performative Art – Sculpture at the Academy of Fine Arts Vienna and has published ''Performance Art in Vienna since 1960'' in collaborative with Carola Dertnig.
Standing in front of a camera with a megaphone in her hand and dressed in black with eyes highlighted in a glittery green, Tara Casey, the performer, takes apart and repeats passages from a text on feminist film theory from Mary Ann Doane entitled ''The Desire to Desire: The Woman's Film of the 1940s.'' Her face is illuminated in blue, green, and red in intervals lasting several minutes. Accompanying the recitations are fragments of songs that move the performer to dance and produce a relaxed reading of theory, which, at the same time, becomes more and more distanced through the constant repetition of words and sentences. A text by Julia Kristeva is projected onto Tara Casey's body as she shows the audience several cards that display the words, which are from the song ''Yesterday'' by the Beatles, and presented in a queer context now, make fun of the gender constructions of pop culture from a feminist and lesbian point of view.