Globalization and Border @ Sunil Sigdel. 2008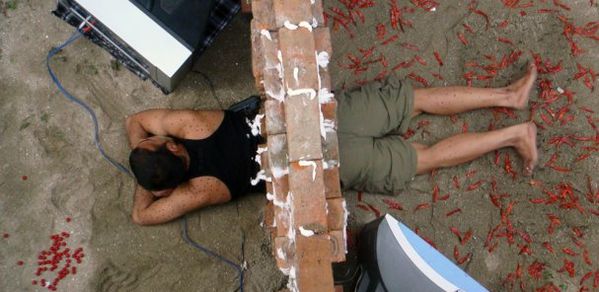 - SIGDEL Suni, Globalization and Border, 2008.
« The world we live today has given many definitions to a human being. At the same time it has also taken so much from us. The common belief of globalization has seemingly ready a parson with boundless possibilities as we can get in touch with every development or weakening around the world. However the world seems a tiny nut shell which is quite difficult to crack. Thought we can know everything that is happening, we often can not directly impact these situations. This has happened because we are bounded by the political and geographical border.
The installation based performance that I have presented here is the combination of my various social and materialistic beliefs. Here I have adjusted myself on the ground partitioning my body with a wall created by bricks. Then I have placed nails and chili on the ground of the lower side of ma body and on the upper side I scattered sweets on the ground. We basically experience pain but we perceive solace; because that is what we are made to see. Furthermore, I have also arranged two cameras capturing both the sides of my body, which is continuously being telecasted live on the two televisions on the performance site. I have incorporated television because it is one of the hi-tech devices that link us with the globe, promoting the concept of globalization. Therefore, my work is about the primordial pain that is hidden underneath the scientific complexion of human bings. » (Sunil Sigdel)