Fuck for the heir Puppy Bear! @ VOINA Art-Group. 2008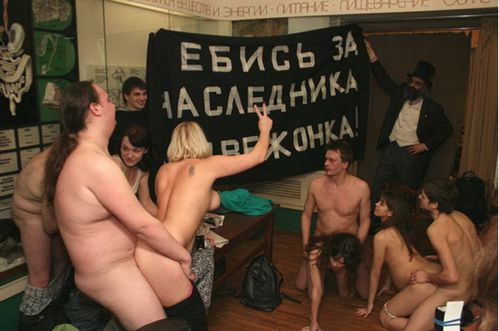 - VOINA Group, Fuck For the heir Puppy Bear!, 2008.
— Sex Orgy in a Museum! What do Pussy Riot & Voina have in common? Fuck for the heir Puppy Bear!
(http/www.henrikaeskashna.com/apps/blog/sex-orgy-in-a-museum-what-does)
''Rebirth of Russian laughing culture, traditions of absurdity and sarcasm in context of high art, that is Rebirth of lively merriment in the art-spaces. Creation of political street-art in Russia in the best traditions of skomorokh and carnival middle-age art.'' VOINA
The connection between Pussy Riot and the group Voina has been highlighted by some of the group's critics and has been called an ''aggravating moral circumstance'' in the eyes of the conservative public (which constitutes about 60 per cent of Russians).
Pussy Riot members Nadezhda Tolokonnikova and Yekaterina Samutsevich participated in some Voina performances. Tolokonnikova was part of a performance in which a number of couples were filmed having sex in the Biology Museum in Moscow in 2008 which has been called an ''orgy'' in the media. Samutsevich took part in actions which involved releasing like cockroaches in a court room and kissing policewomen in the Moscow metro and on the streets (which in some cases was seen as attempts assault).
What is VOINA?
VOINA. A street collective of actionist artists who engage in political protest art. political orientation: anarchist. Enemies: philistines, cops, the regime. Organization type: militant gang, dominated by horizontal ties in everyday life and employing vertical relationships during actions. The group preaches renunciation of money and disregard towards the law (''the no-whoring way''). Founded by Vor and Kozlenok in October 2005, the group was named after Vor (''War''). Initially, Voina actions were clandestine and anonymous, and were called ''training'' or ''practice''. Voina has enjoyed public recognition since 2008. To date, over 200 activists haved participated in Voina actions. At least 20 criminal investigations into the group's activities have been initiated, some of them still ongoing. According to Russia's Investigations Committee.
''Art group VOINA'' is a left-wing radical anarchist collective whose central goal is to carry out PR actions directed against the authorities, and specifically against law enforcement officials with the aim of discrediting them in the eyes of the public. Branches of VOINA members maintain contacts with anarchist group and individuals from all around the world holding left-wing radical views on art and on the world order (Italy, Slovakia, France, USA, South Africa, Greece''.
Goals and objectives of the Art-Group VOINA in the period 2008-2010
1. Rebirth of heroical behavioral ideals of an artist-intellectual, in a manner of Russian libertarian decemberism. Creation of image of artist as romantic hero, who prevail over the evil. Creation of lively romantic models in today's soulless commercial conceptual art.
2. Rebirth of lively expressive art, which is sincere and honest and provoking observers deep emotional experience. Actualization of monumental expressive genres, where large scale harmonizes with totally rich in content orientation, in contrast to outdated hypertrophy of forms, which deovid of sense.
3. Creation of innovative topical art-language, which is producing for pure art, not for a money. It is mean language, which is adequate for today's cultural and socio-political context, which is can show actual art, without outmodedness and provinciality, and which provokes admiration of intellectual all over the world.
4. Rebirth of Russian laughing culture, traditions of absurdity and sarcasm in context of high art, that is Rebirth of lively merriment in the art-spaces. Creation of political street-art in Russia in the best traditions of skomorokh and carnival middle-age art.
5. Conceptual destruction of glamour timeserving and conformist Russian art-market, which is reproducing outdated forms of art, artificially falsifying processes of pricing of art-market and creating financial pyramid from devalued art-junk.
6. Creating of real lef front of art in Russia in traditions of futurim of 1920 years, which is radically shift all ideological poles by the facts of its being. Rebirth of political protest art all over the world.
7. War with ''werewolfes in straps'' for the freedom of contemporary art. War with socio-political obscurantism and ultra-right reaction for the triumph of nano-modernization in Russia. Subversion and destruction of outdated repressive-patriarchal socio-political symbols and ideologies. Art-war against all global world for total triumph of justice in Art-area.
Fuck for the Heir Puppy Bear! was an action staged by at the Timiryazev State Biological Museum in Moscow in February 2008. The performance was dedicated to Russian presidential election. The participants undressed in the museum and started to imitate sexual intercourses in front of a black flag with a slogan: ''Fuck for the heir Puppy Bear!'' here refers to Dmitry Medvedev, whose last name derives from medved, ''bear''.
Their performance was photographed and videotaped by several spectators invited by the performance group.
The performance was announced as a ritual for the bear totem. Plucer-Sarno explained the reason for the action the following way: ''We do not have a goal to necessarily be radical provocateurs. We have a goal to be honest artists and tell what we think. We think that the government fucks the people, and the people like this. This is why the action ''Fuck for the heir Puppy Bear'' was born. He also said in the same interview: ''This is a portrait of pre-election Russia: everybody fucks each other, and the puppy bear looks at that with an unconcealed scorn''. Plucer-Sarno published in his blog a commentary by artist Maria Perchikhina that described the performance as an ''acte of subversive affirmation''. According to this opinion, the taxodermic bear, which was the totem stimulus for the ritual, symbolized Russian political system termed by ''imitation democracy'' by Dmitry Furman, and turned into the figure of the ''chosen chief bear''. The goal of the action then, following the analogy with archaic rituals that assured fertility of land and home animals, is birth assistance for the new political system. The ideas of fertility of land ans reproduction along with the national idea form the core of the new political system. The single transgressive feature in the performance was the publicity of sexual activity. Perchikhina interpreted that transgressive feature as subversive affirmation, in other words, a resistance to the system by outperforming it (similar to ''trying to be better catholic than the Pope''). She also quoted and article by Inke Arns and Sylvia Sasse where the principle of subversive affirmation was explain.
Political science expert Ilya Prokudin commented that the action was clearly political: ''The action in Zoological museum had a political character. It was dedicated to the newly baked (we should not call him newly elected, who elected him?) puppy president, Medvedev, and mocked one of the 'national projects' curated by him, namely 'on the increase in birth rate'. For the least apprehensive, even a pregnant woman was brought. Attention dit not escape a comical Jew in a frock and cylinder on the background who spread the information about the event and naturally separated himself in disgust from the event in the same report. Here, I believe, there is no need to explain anything to anybody. 'A jew curates reproduction of animals', a painting''.