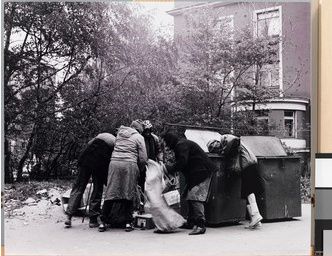 - F.F.F.F. (Fun For Five Females), F-Files, 1998.
F.F.F.F. was a group of artists whose name stood for their programme of ''Fun For Five Programs'' as well as ''femina'' and ''female''. The members Kristi Paap (1973), Kaire Rannik (1971), Berit Tee¨a¨r (1970), Ketli Tiitsaar (1973) and Maria Valdma (1973) all studied jewellery design at the Art Academy in Tallina. As F.F.F.F., they worked with installations and photography, focusing on the themes of gender and identity in a social and political context. They took part in several exhibitions, including ''Gender-Check'' in Vienna in 2009. Today Paap, Rannik, Tiitsaar and Valdmar are jewellery designers in Estonia, while
Tee¨a¨r is a photographer in Belgium.
In this series of eleven photographs, the women artist take on different female and male roles, posing in front of the camera. They explore the question of women's identity in society by acting out a typology of various models of feminity in the form of a masquerade. Each artist in the group of five women plays one role. Whether as a mother with her child or as women in the kitchen, brides, rock stars, flight attendants, prostitutes, soldiers, business women at the airport, domestic workers in historical costumes or whether they are shown rummaging in garbage cans or dressed in traditional Estonian outfits – the artists deconstruct the portrait as a genre in photography, painting and press photography. Each woman is always every woman.