Exergy-Butterdance Extended @ Melati Suryodarmo. 2010 (2000)
- SURYODARMO Melati, Exergie-Butter Dance, 2000.
Performances focusing on identity and human relations and often refferring to political issues and ecological questions are a central part of Melati Suryodarmo oeuvre. The artist says, ''I intend to touch the fluid border between the body and its environment through my art works. I aim to create a concentrated level of intensity without the use of narrative structures. Talking about politics, society or psychology makes no sense to me if the nerves are not able to digest the information. I love it when a performance reaches a level of factual absurdity.'' Suryodarmo was born in 1969 in Surakarta, Indonesia. She studied international relations and political sciences in Bandung, Indonesia, before transferring to the Brauschweig University of Art, where she studied butoh and choreography with Anzu Furukawa, time based media with Mara Mattuschka and performance and spatial concepts with Marina Abramovic. She has living in Braunschweig since 1994.
In her performance Exergie-butter Dance Melati Suryodarmo wears a black dress making her slip and fall. Her repertoire of movements consists of slipping and sliding, crashing down and picking herself up again.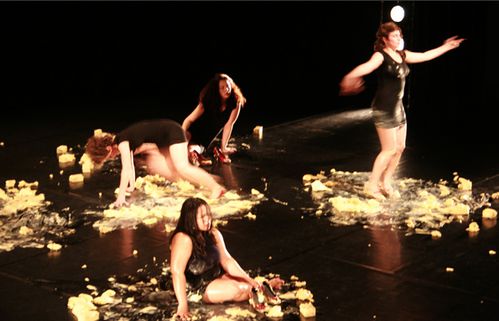 - SURYODARMO Melati, Exergy-Butterdance Extended, 2010.
This was a project that involved dancers who wanted to perform my early work, Energi-Butter Dance (2000). Due to many request of re-enacting the piece, I decided to invite dancers to join me performing the piece. Ten dancers included me danced on the butter at the same time.
Duration: 20 minutes.
Performed at the ''Asian Body and Beyond'' at the Moderna Dance Teatern, Stockholm, Sweden, 2010.