Domestic Sanitation @ Helen Chadwick. 1976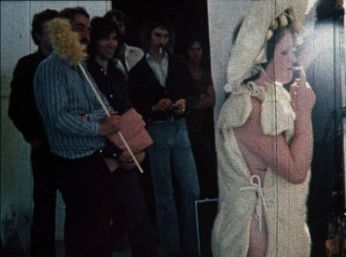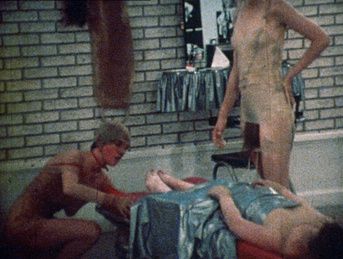 - CHADWICK Helen, Domestic Sanitation, 1976.
The human body was a central theme for this provocative artist.. In her earlier works, Helen Chadwick (1953-1996) created female body parts out of soft materials. In the seventies she developped performances based on objects. In ''Domestic Sanitation'', the participants wear latex body casts; and for her performance ''In the Kitchen'' (1977), Chadwick created gendered kitchen utilities. At the beginning of the eighties, Chadwick began using photography and sculpture to depict her own body. In 1988, she decided to leave the female body and turn to human and animal body parts and innards. Her more famous works such as ''Cacao'' (1994) (a chocolate fountain) and ''Piss Flowers'' (1991-1992) (plaster casts of urine patterns in the snow) are characterised by sexual overtones. Chadwich died suddenly at an early age from a virus she contracted while working in a hospital.
– This video documents a live performance held in the summer of 1976. It was conceived for Helen Chadwick final degree show at Brighton Polytechnic. In the first part, entitled The Latex Glamour Rodeo, five women in grotesque rubber costumes act out bizarre beauty rituals in akind of beauty salon. The performance is without sound, but a radio show can be heard advertising beauty products in the background. In the second part, Bargain Bed Bonanza, four women – each half woman, half bed – appear and continue where part one left off. In the final part, we see a shop window filmed from the street, with the costumes on display and interested passers-by. Chadwick was concerned with the ideals projected onto female identity.