Dante Hotel @ Lynn Hershman & Eleanor Coppola. 1973-74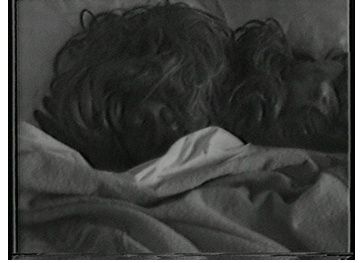 - HERSHMAN Lynn & COPPOLA Eleanor, Dante Hotel, San Francisco, 1973.
— Lynn Hershman's work comprises photography, video, film and installation. She also is a pioneer of computer art. She studied art with a major in art criticism at San Francisco State University. Her works explore the construction of identity in private and public spaces and the interaction between reality and fiction. From 1970 to 1979, she crated Roberta Breitmore, a fictional character, which she portrayed along with four other actresses. Roberta had her own life: she got a driver's license and opened a bank account. In 1995, Hershman received the Siemens Media Art Prize from the ZKM Karlsruhe. She also received the Golden Nica at the Ars Electronica Festival in Linz in 1999. She has recently made several feature films, including Teknolust (2002) and Strange Culture (2007), as well as a documentary film on feminist art called !Women Art Revolution (2010).
Dante Hotel was a site-specific performative installation created by Lynn hershman and the artist Eleanor Coppola in two hotel rooms that they rented for nine months and two weeks, respectively. Throughout Hershman's room, objects were distributed to look like traces of people living there. The objects allowed visitors to reconstruct the stories behind these fictional characters. As in Hershman's other works from the 1970s, in Dante Hotel she investigates not only the relationship between life, art and identity, but also between the beholder and the artwork.
— Thomas Albright, « A Ghostly Hotel Room Tableau, » San Francisco Chronicle, December 22, 1973, p.32. Review of Lynn Hershman and Eleanor Coppola's environments at the Dante Hotel, San Francisco.
— James Minton, « Trepassing at the Dante, » Artweek, v.4, December 22, 1973, p.3. Descriptive article about the environmental works produced by Lynn Hershman and Eleanor Coppola at the Dante Hotel, San Francisco. Excerpts:
« Lynn Hershman and Eleanor Coppola have entered the Dante with intent to commit art… They have each entered a room, number 47 and 50 respectively, and have installed or made in each room a sculptural piece or environment…
[An] air of illegal entry is heaviest in Hershman's room. In the bed, tangled, nearly buried in the sheets and blankets, are two of her "ladies," locked together in penultimate exhaustion. A single eerie green lightbulb burns in the fixture hanging from the center of the cracked, stained ceiling; a similar light leaks out from around the closed closet door accompanied by a woman's voice, recorded, the voice of Siobhan McKenna reciting Molly Bloom's soliloquy from "Ulysses." But, the playback volume is so low her words are nearly indistinguishable from one another. It could be the voice of a tenant next door, mumbled into her pillow, the body of another person, or the still flat air. »
— Lynn Hershman & Peter d'Agostino, Dante Hotel Documentary, San Francisco, 1974. Videotape.
— Peter Selz, « San Francisco; Lynn Hershman at the Dante Hotel, » Art in America, v.62, March/April 1974, p.119.
— Moira Roth, « An interview with Lynn Hershman », LAICA Journal, no.17, January/February 1978, pp.18-24. (Errata-three additional photos appear in Journal no.19). Excerpt:
« LH: [on the Dante Hotel piece, 1973] …I think that was the first interesting thing I did. I just set up a hotel room where you could go 24 hours a day, any day of the week. You could sign in at the desk, get a key, go up to the room, and trepass into this kind of alien identity that was there – to see this persona that was assumed to have living there. There were two wax figures that were lying in the bed as you entered the room, two women. Articles of their lives were part of the environment so you got a sense of the people who inhabited the space. I used what was there, changing it as I could. A special record was made for the sound, and I used different kinds of lighting.
MR: We should mention that the Dante Hotel is a rather sleazy hotel, shabby and slightly ominous. After the Dante Hotel, you did a three-room environment in New York. Three rooms in places of highly different character: the Chelsea Hotel, The Plaza, and the YWCA.
LH: A bus went to all three places. You could get off and note the differences of what it would be like to land in New York for one day and, for whatever reason, be put into one of these situations, situations that were profoundly different in all ways: visual, social and economic. Each room had the idea of being indigenous to each neighborhood, using materials from within a one-block radius of each place as the core medium for creating that particular portrait… »