Clandestino @ Hector Canonge. 2011. NYC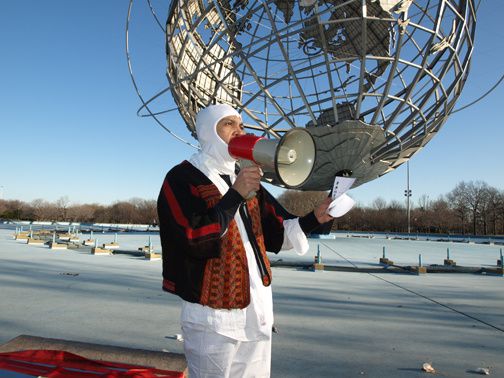 - CANONGE Hector, Clandestino,, 2011, NYC.
About: In observance of International Migrants Day, artist, Hector Canonge, invited the general public to symbolically occupy the world by joining him for presentation of Clandestino: World Migrant on Sunday, December 18th, 2011. The two-hour public intervention and performance art event took place around the UNISPHERE, the monumental steel structure, located in Flushing Meadows Corona Park in Queens, New York.
International Migrants Day was proclaimed by the United Nations General Assembly on December 4, 2000. Taking into account the large and increasing number of migrants in the world, The UN proclaimed December 18 as International Migrants Day. On 18 December 1990, the General Assembly has adopted the International Convention on the Protection of the Rights of All Migrant Workers and Members of Their Families. UN Member States and intergovernmental and non-governmental organizations are invited to observe International Migrants, and through the sharing of experiences and the design of actions to ensure their protection.
Description: Clandestino: World Migrant is Canonge's latest public intervention/performance in a public park in New York City. It consists of using the perimeter of the Unisphere fountain as a platform for activism and reflection to evoke the displacement of peoples around the world. As the artist moves around the monumental structure, he created narratives on site, invited the public to write slogans, and read aloud with participants the Migrant Manifesto created by Immigrant Movement International. Canonge declared that his public performance ''denounces recent immigration policies in the US and around the world. It denounces how people have been affected by ethnic profiling, detention, deportation and separation from loved ones.''
Documentation: The following is a documentation of the 3 hour performance presented at the Unisphere Fountain in Flushing Meadows Corona Park, Queens-NYC, on Sunday, December 18, 2011. (photos)