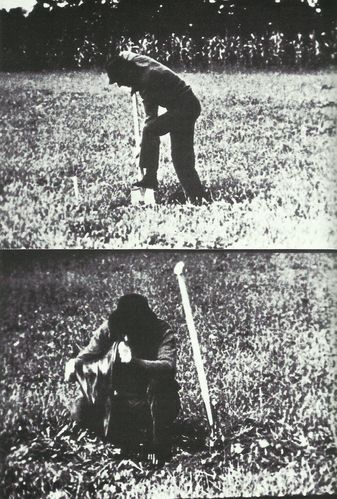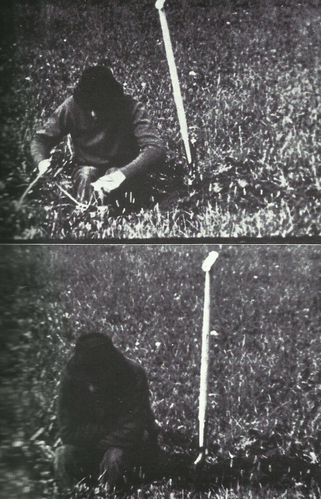 - CARPI Cioni, Egg One Egg Zero, 1972.
« I do not believe it is possible to talk about just one or two of my films (even if I omit a whole period, from 1960 to 1965, of experimental film) without also speaking of others which are their premise, or element of continuity. And particularly I would like to mention three films (Dog, Rat, Puzzle) of 3 to 4 minutes each, whose framess cannot reproduces other than by projection, since the visually recognizable part of these films, which lasts a few seconds, is the key to their interpretation, that is, the element of shock which must act on the body of spectator. So, I will start precisely with these non-reproducible films in which the recognizable sequences present situations of violence (with a meaning of bullying) that goes from the kind of violence which still leaves a margin for struggle, to total violence. In each of these three films the recognizable sequence is preceded and followed by about two minutes of imageless projection. It is inevitable that during the first part of 'zero' projection the spectators' behavior will vary from individual to individual: from expectation, to boredom, to agitation, to irritation, to a hypnotic state, to thinking about one's own affairs, to hatred toward the artist, and so on. To sum up, this part of non-happening should help to detach spectators from the reality surrounding them, to free them from defined contexts, to make them available for any possibility. But from the very moment when these different inner attitudes recompose themselves thanks to the short recognizable sequence, the spectators' behavior should change by conforming to a common model through cognitive processes (curiosity, attention, reflection, etc.), since the received information of violence will be stored and elaborated by the spectators according to homogeneous modes and quantities, and the visual happening will be transformed into political awareness. Therefore, during the second part of imageless projection the spectators will have all the time they need to reflect, perhaps even upon the impossibility of eluding the existential obligation – rather than the nature of the existential problem – and the danger of evading objective reality, which today seems to be merely a question of violence. And these are truly active palimpsests. »
« From a hole in the ground I unearth the last egg, I drink it, I carefully bury its remain again. A situation of non-hope: « to hope for something » must be replaced by « to fight for something » (hope, as we know, is the last and the worst sin in Pandora's box). »
- CARPI Cioni,
Two Feet One Foot Underground, 1972.
« I dig a hole one foot deep and I bury my feet in it, I sit down and I stop moving. An admission of impotence, of incapacity, of insufficiency (but the admission is in itself awareness). After the film was shot, the fact of having unearthed my feet, althrough with a certain effort, was already a step in the right direction. These films have no soundtrack, since sound must be taken for granted (sea, wind, etc.), otherwise it would become an arbitrary and strongly conditioning element, exactly as the 'silence' is in the three films described at the beginning. »