Cheerleaderka @ Katarzyna Kozyra. 2006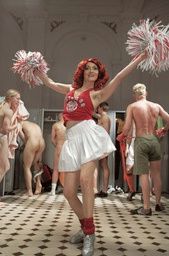 - KOZYRA Katarzyna, Cheerleaderka, 2006.
After studying at the Warsaw Academy of Fine Arts, Katarzyna Kozyra (1963, Poland, Italy, Germany) decided she no longer wanted to maje sculptures and began working with photography, video, performances and installations instead. In 1999, she was honored with a special award when she represented Poland at the 47th Venice Biennale. She received a grant from DAAD in 2003, which she used study to become a makeup artist and opera singer.
Cheerleaderka (Cheerleader) is one of the 13 videos in the cycle W sztuce marzenia staja sie rzeczywistoscia (In Art Dreams Come True). In this video, Katarzyna Kozyra is dressed up as a red-haired pop star, singing a Gwen Stefani song and dancing in cheerleader-like fashion in a men's locker room. Kozyra can also be seen in different roles in her earlier works as well, including the obese woman in Diva and the man in Laznia Meska (Men's Bathhouse).
— The Cheerleader is conceived as a pop video to the music and words of the Gwen Stefani song ''What You Waiting For?'' but it does not make reference to the themes of the original video. The scenes unfold in a typical men's changing room. In the beginning the young, fit men do not pay the slightest attention to the activities of the singing and attractive, dancing cheerleader acted by Kozyra. The video explores, amongst others, the problems of the body as a costume and of one's own identity that have frequently been the artist's preoccupation. It is not without significance that in the work Cheerleader the artist makes use of image she had created of herself in previous works: the fat woman from Diva. Reincarnation – a performance that took place in the Centre for Contemporary Art Ujazdowski Castle and herself dressed as a man from the work Men's Bathhouse that won an award at Venice Biennale. In the film also appears a choir comprising two of the directors and curator from Zachêta Gallery.