Chainsmoke-Flavor Mint-Portrait by Rumor/Out of sight Out of Mind @ Howard Fried. 1972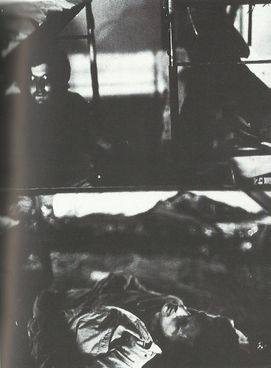 - FRIED Howard, Chainsmoke-Flavor Mint- Portrait of Flower, 1972.
« Object… Howard Fried's transmitted image.
Object modifier… Howard Fried.
Subject… the transmission of Howard Fried's image.
Subject modifier… Anne Evans. » (see Lea Vergine, p. 100 and see Howard Fried, Out of Sight Out of Mind, 1972)
- FRIED Howard, Out of Sight Out of Mind, 1972.
« The psychological tone originally transmitted by the physical presence of the object modifier decreased in fidelity or was distorted by the passage of time and eroded by the friction-like correspondence of the subject modifier and the time spent in the presence of each of the objects (the portraits). This process reached a stage where the psychological tone displayed by the object seemed to the object modifier to be somewhat less than nineteen times more reflective of the subject modifier's psychological stage than that of the original object; much less, the object modifier. The twentieth then seems to be a mask, or rather functions as a camouflage for the subject modifier's reaction to her encounter with a particular structure of time rather than her encounter with the object modifier – whose image is the object.
I commissioned Anne Evans, an ex-portrait artist to do twenty portraits for me. The first was a portrait of me. The second, a portrait of the first portrait; the third a portrait of the second portrait… and so on. I was present while the first portrait was executed, I posed for it. I was no present while any of the subsequent nineteen were executed. » (see Lea vergine, p. 100-101 and see Howard Fried, Chainsmoke-Flavor Mint-Portrait of Flower, 1972)