Ceremony for Freeway Fets @ Senga Nengudi. 1978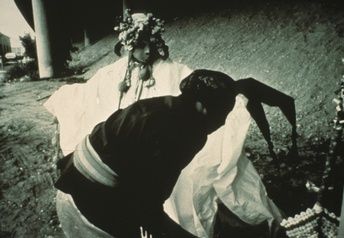 - NENGUDI Senga, Ceremony for Freeway Fets, 1978.
Born in Chicago, Senga Nengudi (1943, USA) grew up in California, where she studied art and dance. In 1971, she moved to Harlem and became involved with just Above Midtown, the first Afro-American gallery in NYC. , exhibiting with Houston Conwill, David Hammons and Lorraine O'Grady. From the mid-1970s onwards, she became known for performance based sculptures made from nylon mesh – tights, a woman's underwear. At the same time she met Maren Hassinger with whom she started to frequently collaborate. ''Hardly supported by our white contemporaries, including the women's movement, we set out on our own'' (Nengudi). In addition to her sculptural performance practice, she has invented a variety of personne such as the photographer Propecia Leigh, painter Harriet Chin, and the writer Lily Bea Moor to explore, 'what's in a name', to subvert stereotypical expectations raised by an 'ethnic' artist name and generally to reflect the great significance of naming in black culture.
These photographs are the only documents of an event that Senga Nengudi instigated and conceived in March 1978: Ceremony for Freeway Fets, an improvised collaborative performance held at a Los Angeles freeway underpass to mark the installation of her public art work Freeway Fets. For Ceremony, Nengudi collaborated with members of an Los Angeles-based artist collective called Studio Z that she was also a member of at that time – as were the participating artists Maren Hassinger, David Hammons and the late Franklin Parker (1945-2001). Nengudi designed costumes and head dresses, Hammons and Hassinger acted as male and female spirits, the members of Studio Z played improvised music. Freeway Fets comprised of objets made from Nengudi's signature material, nylon mesh – non of which have survived.