Butt Smack Bongo @ Chicks On Speed (COS). 2007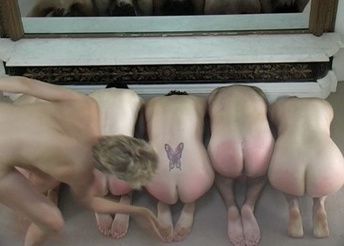 - CHICKS ON SPEED (COS), Butt Smack Bongo, 2007.
Chicks On Speed (COS since 1997, Germany) were founded by Melissa Logan (USA) and Alex Murray-Leslie (Australia) in Munich as a multi-disciplinary art project.They were primarily active as a band until 2005, when then they began combining music, art, fashion and activism. Their members sometimes change, and they regularly cooperate with artists such as Anat Ben-David and Douglas Gordon, among others. Their works are almost always humorous and are influenced by punk and DIY aesthetics – they oscillate between live performance, installation and music video while representing a new, pleasure-oriented feminism. COS currently live in Hamburg, Germany.
Naked bottoms are the main pictorial motif of this short video. This performance of nude women smacking bottoms and walking up and down stairs in transformed through video editing into a rythmic piece of music. The inherent humour of Butt Smack Bongo casts an amusing and amused glace at the seriousness of the strain of performance art that elevates the body and nudity to the central motif for vulnerability by subverting it into laughter and power. Camera/Editing: Anat Ben-David.