Budding Gourmet. Semiotics of the Kitchen @ Martha Rosler. 1974-75. videotape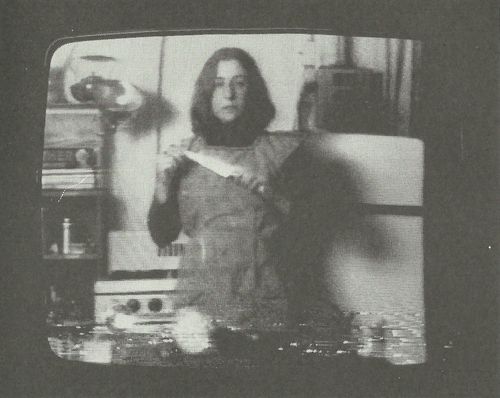 - ROSLER Martha, Budding Gourmet : Semiotics of the Kitchen (videotape b/w), 1974-75.
This and A Budding Gourmet are part of an ongoing body of work about consuming habits that includes not only videotapes but also performance works, dialogues and serial postcard novels. Food is treated as a necessity reinvented as commodity, and cooking is presented in its persona land political aspects as itself and as a metaphor, as an internalized value and as a colonized strategy.
Since the early 1970s, Martha Rosler's (1970) works have constructed social and political analyses of the myths and socio-political realities of contemporary culture. Her video works investigate with deadpan with how socio-economic realities and political ideologies dominate ordinary life. Presenting complex critical analyses in accessible forms, Rosler merges performances, narrative, documentary and mass media images.
Semiotics of The Kitchen
adopts the form of a parodist cooking demonstration. On a counter before the artist are a variety of ustensils, each of which she picks up, names and proceed to demonstrate, but with gestures that are increasingly marked by frustration and anger and depart from the normal uses of the respective tools and into a kind of mad music of sound and gesture.