Black & White Tapes @ Paul McCarthy. 1970-1975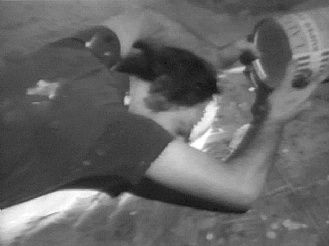 - McCARTHY Paul, Black and White Tapes, 1970-75, video, 32:50 minutes, sound, b/w.
This group of works by Paul MacCarthy, Black and White Tapes (1970-1975), contains 13 studio performances in which the body's expressive presence is suffused with an anarchist sense od humor that is at once liberating and repulsive. MacCarthy, for instance, becomes a human paintbrush that is dragged across the studio floor with an open can of white paint affixed to his head, thus performing a parodic variation on a familiar Minimalist gesture – the drawing of a white line. These actions reach a provocative climax when the artist turns to adress the audience by spitting into the camera lens.