Binding Ritual, Daily Routine @ Mary Coble. 2004-2005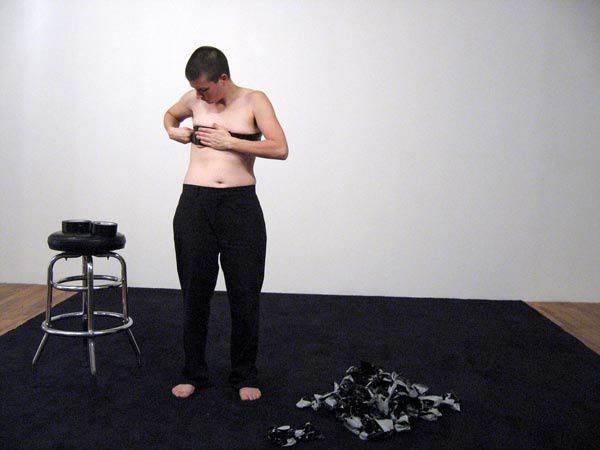 - COBLE Mary, Binding Ritual, Daily Routine, 2005.
Binding Ritual, Daily Routine was a live performance that took place at Artists Space in NYC, NY in 2005 as part of ''Performa'05''. In this performance piece the artist repeatedly taped and untaped her breast with duct-tape for over ninety minutes. This piece speaks to the emotional and physical pain that many transgender people may feel on a daily basis. For female to Male transgender individuals, who may bind daily, want to be perceived as having no breast at all. To bind that tighly can be not only extremely physically painful but can be mentally trying as well. The artist wanted to create a physical manifestation of the mental space where she imagines transgender individuals silently suffer, while shortening a lifetime into a few hours.
Mary Coble (1978, USA, Denmark) works with installations and performances where she often uses her own body as a metaphor of two contradictory states of mind and body fluctuating between vulnerability and resistance. In her work Coble criticizes social intolerance and the tight parameters of dichotomy (feminine/masculine, rich/poor, beautiful/ugly) that are clearly inadequate and insufficient to define a reality that is much broader and more complicated. '' (…) I introduce viewers to individuals and subcultures, such as transgender people, drag kings, and the queer community who break societal norms of acceptable expressions. I want viewers to become aware of their responses, recognize the stereotypes they consciously and unconsciously reinforce, and question the biases their choices are based upon.' (Mary Coble)
The artist's naked torso is silhouetted against a black backdrop accentuating her skin's softness/fragility in a nearby picturesque manner in front of the camera. In the full-length performance Coble explores the physical limits of pain and resistance as she repeatedly sticks adhesive tape to her breasts and removes it again. The constant rhythm of her gestures starts to slow down with the visual pain that the repetition, the ritual routine, causes to her skin. In the absurdity of this routine, the artist makes the symbol of feminity appear and disappear by uncovering and covering her breasts. In this manner, Coble establishes a consciously defined dialectic, one in which she rejects the labels and conventions regularly attributed to all that feminine and frees her body at the same time, whose feminity is being freely guided by her own principles.