Art & Technology @ Chris Burden. 1975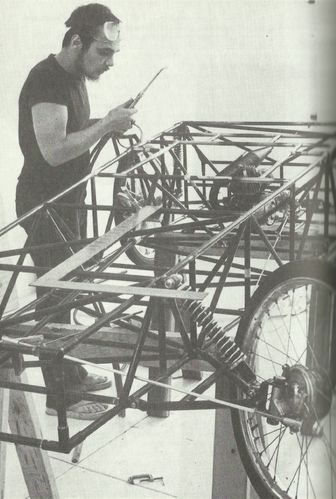 - BURDEN Chris, Art and Technology, De Appel, Amsterdam, Holland, October 16, 1975. (see B-Car, 1977)
« During the two month period of August 24 to October 16, 1975, I conceived, designed, and constructed a small one passenger automobile. My goal was to design a fully operational four wheel vehicle as extremely lightweight, streamlined, and similar in structure to both a bicycle and an airplane. Details similar to bicycle design include spoke wheels, adjustable wheel bearings, and space frame construction. Cable-operated controls, fabric coverings, skeletal structure, and careful consideration for weight distribution are found in light weight airplane construction.
The completed 'B-Car' was disassembled and air freighted to Holland. I re-assembled the car in four fays as a performance for the De Appel Gallery in Amsterdam. »
— Chris Burden, « B-Car », Choke, no.1, Fall 1976, pp.23-26. Photos and statement by Burden regarding his B-Car.
— Chris Burden & Alexis Smith, B-Car: The Story of Chris Burden's Bicycle Car, Los Angeles: Choke Publications, 1977. Excerpt:
« Once the project was conceived, I was compelled to realize it. I set the goal of completing the car for two shows in Europe. I saw building the car as a means toward the end of driving it between galleries in Amsterdam and Paris as a performance. When I arrived in Amsterdam, I knew that the accomplishment of constructing the car had become for me the essential experience. I had already realized the most elaborate fantasy of my life. Driving the car as a performance was not important after the ordeal of bringing it into existence.
B-Car Specifications
Length: 8'10''
Height: 31''
Weight: 200 lbs
Wheelbase: 6' 3/4''
Track front: 4'
rear: 4'
Minimum ground clearance: 7 3/4''
Frame: Pure space frame of 4130 chrome moly tubing, 5/8'' O.D., .035 wall thickness, silver soldered and welded
Suspension: Independent on all four wheels
Body: Fabric, riptop nylon with silver vinyl coating
Tire: 2'' x 19''
Brakes: 4'' x 1'' drum, on all four wheels, mechanically operated
Fuel capacity: Twin 1 gallon tanks
Engine and Drive Train: P4 Minarelli 2 Stroke 50 cc. air-cooled motorcycle engine
: 4-speed transmission, clutch, and magneto in integral case with engine
Top Speed: 50 m.p.h.
Fuel Consumption: Approximately 150 m.p.g.