A Lecture on Houdini (for Terry Allen) @ Allen Ruppersberg. 1973. Videotape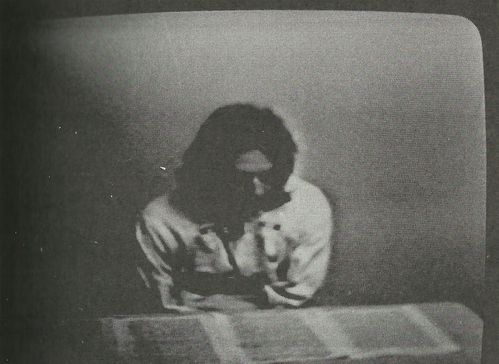 « Good morning. Today's talk concerns a man who name has been a household word for almost three quarters of a century. However, it will not dwell on the details of an incredible life, most of which are readily available to any diligent student, but instead will direct itself to exploration of the heroic belief which carried and sustained him for almost forty years. We will see the strength of this belief not only throughout his own mortal life but probably also (to use his words) from the world of the beyond. The man: Harry Houdini. The idea: To establish physical contact with the world of the spirit. is life continuous? Can one reach back from the reaches of the beyond? The determination, energy and emotion behind the ideas of this man are indeed of legendary proportions and have continued to expand since his death in Detroit, Michigan, on Halloween, 1926. His thoughts and research into the activities of a professional magician, and escape artist are still among the finest of today but the promises he saw from the beyond have yet to be fulfilled or surpassed.
Houdini was working as always as the complete madman. The fateful chain of events started October 10th. He was in Albany preparing to be lowered into the water torture cell to close the act. Something snapped in his ankle. "I've a show to finish" was his reply. Later it was confirmed as a fractured ankle. He continued whith the show, traveling for two weeks. He arrived in Montreal, Monday October 17th, with the ankle knitting but Houdini exhausted. One challenge which he continued in every town was a long standing dare to punch him in the midsection with no visible reaction due to his physical prowess.
A college boxer and friends approached him backstage at the Princess Theatre. "Could I try right now?" asked the boy. "Sure" was the reply. As Houdini rose from the couch the boy smashed him in the stomach. houdini gasped. He hadn't been ready. He was white but he set himself and the boy hit again to feel what seemed like an oak plank. Houdini's side bothered him. During the matinee he suffered pains in his right side but faithfully chose to ignore them. By evening it was worse and Bess wanted to call a doctor. "No" was the answer. »