Eternal Frame. Who killed Kennedy ? @ Ant Farm. 1975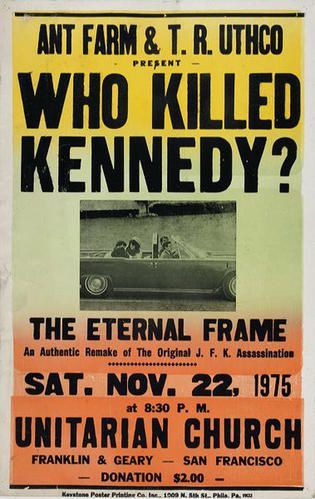 - ANT FARM & T. R. UTHCO, The Eternal Frame, 1975 (Vidéo, 23 mins)
Howard Smith and Brian Van der Horst . Extrait :
« …bought at 1963 Lincoln Continental limousine and modified it with a roll bar and other presidential accoutrements. They researched every photograph of the original event they could find for spatial relationships. They obtained a copy of the Zapruder film and studied it for hours.
« Then we consulted makeup artists so each of us could play the necessary parts, such as JFK, Connaly, and Secret Service agent Hill », said Michels, who portrayed Jacqueline in the re-creation. « We practiced and timed the event like a ballet. We made it look exactly like the original ». Finally the two bands of artists arrived in Dallas and in front of their own photographers, video and film cameramen, proceeded with their plans.
« We found that tourists still comes there every day », says Curtis Shreier. « They line up on the streets just like in 1963 – except they wear pink shorts instead of suits. They loved us. People rushed up with they Instamatics. We were doing it every hour – 20 times during that day – and they throught we were a government reconstruction squad or from the Chamber of Commerce. »
— Ant Farm, « The Eternal Frame: An Authentic Remake of the Original JFK Assassination », La Mamelle Magazine: Art Contemporary, no.5, 1976, pp.30-31. Excerpt:
« In August 1975, members of Ant Farm and T.R. Uthco went to Dallas to video tape their re-enactement of the assassination of John F. Kennedy. Fearing that their desecration of an American myth could result in an unpleasant confrontation with the citizens and authorities of Dallas, the artists' motorcade made its first pass through Dealy Plaza at 7 a.m. By two in the afternoon, the artist-president had been assassined 17 times. Dealey Plaza had becom jammed with tourists who eagerly photographed the event for family and friends back home. Even the dallas Police were cooperative, allowing traffic to be stopped for the motorcade. The reaction of the tourists ranged between amusement and being sincerely moved by the spectacle. The only confrontation occurred when the artist-president party entered the Kennedy Museum just off Dealy Plaza. The impromptu speech by the J.F.K. look-alike was cut short by the curator of the museum, who demanded that he leave the premises. The event ended with the artists and tourists gathered on the grassy knoll singing 'The Eyes of Texas Are Upon You'. »