Media Burn @ Ant Farm. 1975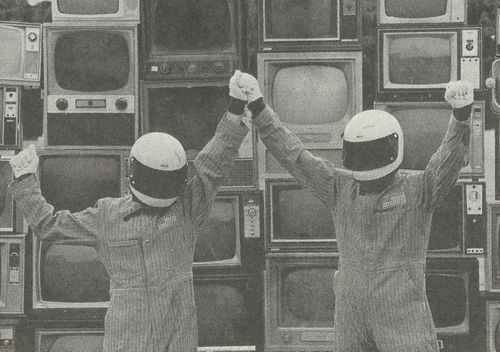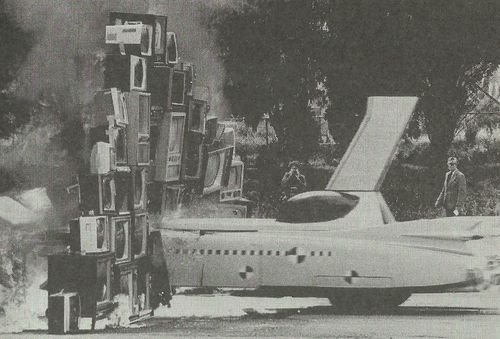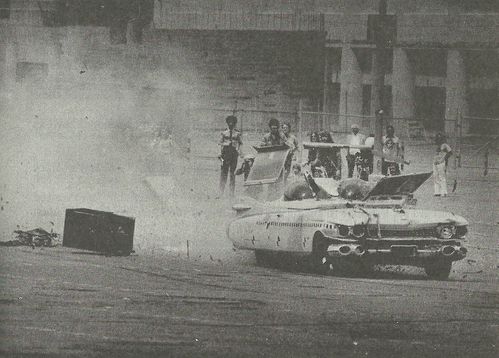 - ANT FARM, Media Burn, 1975-2003.
 San Francisco. Videotape. 16 mins. Color.
« (23:02 version EAI) (alias Chip Lord, Doug Michels, Curtis Schrier, Uncle Buddie)
Media Burn integrates performance, spectacle and media critique, as Ant Farm stages an explosive colllusion of two of America's most potent cultural symbols : the automobile and television. On July 4, 1975, at San Francisco's Cow Palace, Ant Farm presented the « ultimate media event ». In this alternative Bicentennial celebration, a « Phantom Dream Car » — was driven through a wall of burning TV sets.
Footage of the actual event, much of which was shot from a closed-circuit video camera mounted inside a customized 'Tail-fin', is framed and juxtaposed with news coverage by the local television stations. Doug Hall, introduced as John F. Kennedy, assumes the ironic role of the Artist-President to deliver a speech about the impact of mass media monopolies on American life : « Who can deny that were are a nation addicted to television and the constant flow of media ? Haven't you ever wanted to put your foot through your telévision ? »
The spectacle of the Cadillac crashing through the burnning TV sets became a visual manifesto of the early alternative video movement, an emblem of an oppositionnal and irreverent stance against the political and cultural imperatives promoted by television, and the passivity of TV viewing.
Examining the impact of mass media in American culture, Media Burn exemplifies Ant Farm's fascination with the automobile and television as cultural artifacts, and their approach to social critique through spectacle and humor. » (by Ant Farm. Executive Producer : Tom Weinberg. Editors : Chip Lord, Skip Blumberg, Doug Michels, Tom Weinberg) Source EAI. Electronic Art Intermix. »
Jon Carroll 1. Extrait : « At 2:30 in the afternoon on July, 4, a man introduced as President John F. Kennedy appeared in a long black car with an american flag on each front fender. Well-groomed men in dark suits trotted alongside. The car stopped behind the bunting-draped speaker's platform, and the man introduced as Kennedy bounded up the stairs. He looked like Kennedy, and he walked with hands thrust in his coat pockets, thumbs protruding…
Kennedy gave a speech to 500 curiosly seekers assembled behind yellow barricades in the huge concrete parking lot. His speech seemed to be loosely based on a McGovern campaign document. While Kennedy spoke, some 50 cameras — still, video, movie — recorded the event, while a smaller number recorded the cameras recording Kennedy. « Mass media monopolises control people by their control of information, » said Kennedy. « I ask you, my fellow Americans, haven't you ever wanted to put your foot through your television screen ? » A roar went up from the crowd.
Below Kennedy, in front of the platform, lurked the Cadillac dream car, a customized 1959 Biaritz with a sleek canopy surmounted by two clear Plexiglass bubbles. Rising behind the bubbles, on what would ordinarily be the trunk, was a spire on top of which was mounted a television camera. Kennedy finished, was applaused, sped off. A blue van moved forward and disgorged two men dressed to ressemble astronauts, complete with opaque helmets. After acknowledging the cheers of the crowd, they crawled into the dream car. The daredevils would steer the car, using a monitor on the floor and a camera in the spire.
A hundred yards away, Uncle Buddy poured kerosine on a stack of 15 television sets. He lit a match. The kerosine burned with a bright orange flame and thick black smoke. The wood cabinet on some of the older television consoles caught fire. The Cadillac accelerated toward the wall of burning television sets. Another roar went up. The car hit the wall at 55 miles per hour. Televisions wreathed in flames were hurled forward. The spire of the car was sheered off entirely. The Cadillac came to a halt at the far edge of the parking lot. The drivers emerged, stood on top of the car, and waved their hands over their heads. The crowd cheered.
The televisions sets continued to burn, punctuated by an occasionnal howl as another picture tube imploded. »
Frank Fox 2. Extrait : « Ant Farm distributed scripts to the score of more « musicians » who waited in the cars for Schreier to signal the beginning of the symphony with a blast from an air horn…
The air horn was pathetically weak. Schreier and Michels had to wave their arms like frenzied Leonard Bernsteins while the people accross Farm Lane blew their horns, flashed headlights, ran around the cars, slammed hoods and thrunks and generally behaved like greasers in a drive-in on Saturday night…
Finally came the triumphant climax as the horns joined together in a strident screech that absolutely delighted the spectators with a blast of energy and joyously mindless noise.
Carla Lisa 3. Extrait : « …the whole point of Media Burn is producing art in the public domain. When you do that it becomes a political statement, because it's setting up a reality. Just the way the media reporte dit and put it into some kind of format to explain it to people: like Kennedy they could say was an actor and the event was quasi Evil Kneival. But if you were actually there you know that the experience was between reality and performance.
1. Jon Carroll. « Watching the Media Burn », The Village Voice, July 14, 1975, excerpt.
2. Frank Fox. « Ant Farm Hosts 'Horn and Lights' Bash, » Michigan State News, April 17, 1975. Excerpt.
3. Carla Lisa. « Art Politics Interview: Ant Farm, » Berkeley Barb, July 11-17, 1975. Excerpt.
Cf. également — Frank Sheldon. « Smashing Your TV and Needing It Too, » Chicago Reader, October 1975.
— Paul Krassner. « The Naked Emperor. Fidding While the Media Burns, or: Nero, My God, to Thee. » Crawdaddy. October 1975, p. 14.
— Terry Mc Donnell. « Media Matadors, » City Magazine, August 1975.
— « Media Burn, » Studio International, v. 190, September 1975, p. 157. Brief description of Media Burn, a work executed by the Ant Farm in collaboration with T. R. Uthco on July 4, 1975.
— « Media Burn/Ant Farm, » TeleVisions, v. 3, August/September 1975.