Seven Monuments for Annie Sprinkle @ Muda Mathis. 2008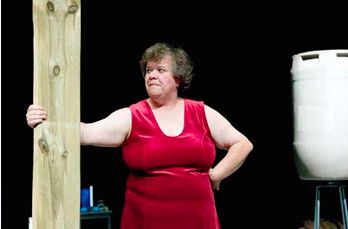 - MATHIS Muda, Seven Monuments for Annie Sprinkle, 2008, performance Saga, Festival Bone 11, Schlachthaus Theater Bern.
Muda Mathis (1959, Switzerland) was dran to Fluxus while studying at the F+F School of Design in Zurich. Together with Teresa Alonso and Regina Florida Schmid, she founded the performance band Les Reines Prochaines in 1987. The band has continued to perform with different members since. She continues to collaborate with Sus Zwick in an ''open artist relationship'' (Sus Zwick) in performances, videos, installations and music since 1989. The two artists received the Prix Meret Oppenheim in 2009. In response to the journal Rosa's question of just how feminist their art is, Mathis said in 2010 that she is a direct product of the idea of self-liberation of the women's movement in the 70s and 80s: ''In our artistic work, we focus on emancipation as a personal and collective process and as a forward driving force that still holds a revolutionary element, no matter how personal.''
The film documents a rare solo performance by Muda Mathis, in which she rolls a rain barrel onto a stage and declares the performance artist Annie Sprinkle is her sister. Mathis pays homage to the American artist in a kind of revue consisting of songs, music and sculptural actions – all to the audience's amusement. In this way, the artist creates seven monuments, which she comments on both live and supposedly objectified recordings. The subtle irony in the performance is a satire on the language of art critics. The artist also relies on the objects in the performance to expose language's inadequacies in describing male and female attributes. Mathis staged the performance during the Performance Saga Festival in 2008 in Bern, where Annie Sprinkle also participated with a performance of her own.